In his three lectures as the William Allan Neilson Professor at Smith College in spring 2023, Hatch will articulate a broad range of interdisciplinary theories and methodologies focused on power, health inequalities, and biotechnologies. In the first lecture, he defines three keywords (intersectionality, coproduction, and translation) and describes their theoretical contributions to cultural studies of health and to confronting social inequalities in health and practices of discriminatory design. In the second and third lectures, he will use this approach to examine two seemingly disparate yet fundamentally connected biotechnologies that center the relationships between carcerality, the production of scientific and medical knowledge, and the material transformation of bodies: automated pharmacies and metabolism cages. By tracing patterns of social inequality, discriminatory design, and poor translation in the development and uptake of automated pharmacies and metabolism cages, Hatch hopes to illuminate how social structures change material bodies and social lives.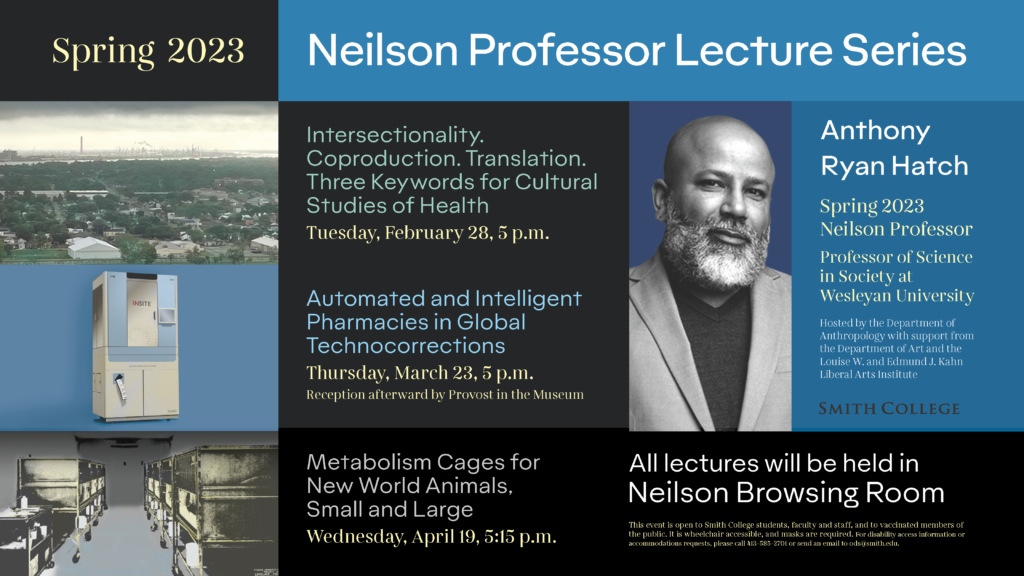 Lecture 1: Intersectionality. Coproduction. Translation. Three Keywords for Cultural Studies of Health
Intersectionality. Coproduction. Translation. These keywords have traveled from the social sciences, science studies, and humanities towards public health, social medicine and modalities of design practice in a scaled effort to understand patterns of social inequalities in health, unequal divisions of labor and benefit in technology design, and the diverse meanings of scientific knowledge. Yet, the uneven uptake of these keywords into diverse fields, often without sufficient attention to social power, limits their utility for generating scientific and conceptual understandings of inequality that can function as social critique. I locate and compare these keywords in terms of their promise for framing critical questions about the social structures and infrastructures that perpetuate social inequalities in health. I focus on how each framework would have us study unequal power relationships in cultural studies of health, medicine, and biotechnology and think through a few examples to demonstrate these methodological approaches to power. Based on this exegesis, I outline an interdisciplinary approach to investigating the political economies of global biomedicine and design features of technologies that structure social inequalities in health.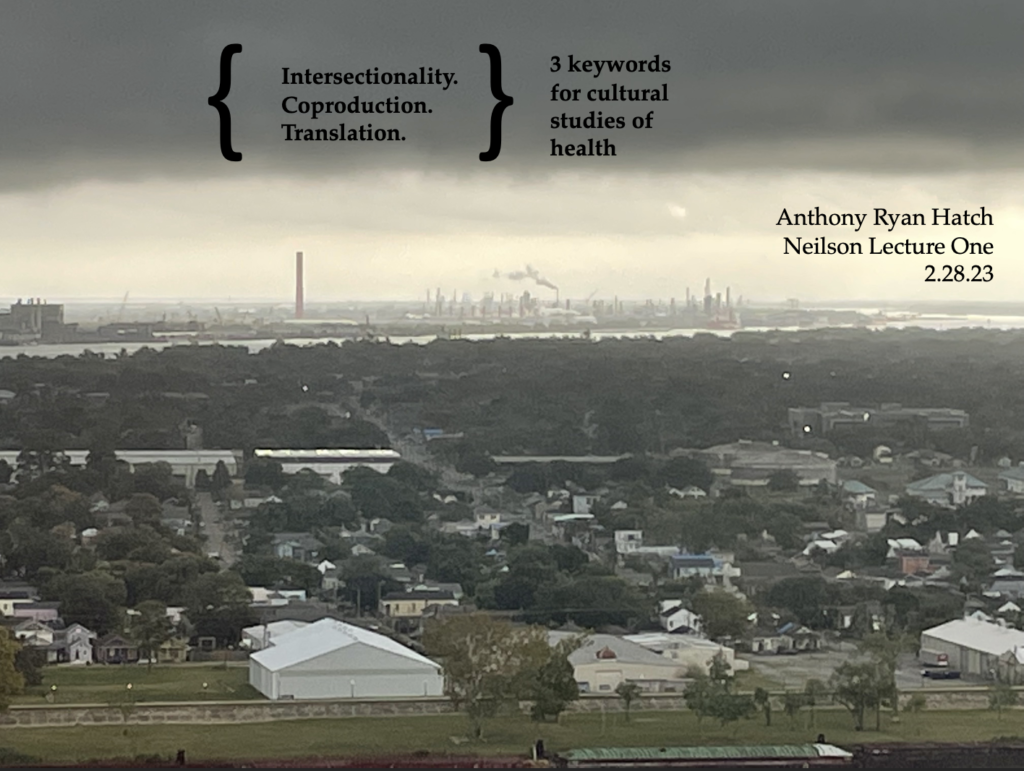 Lecture 2. Automated and Intelligent Pharmacies in Global Technocorrections
Pharmacies in prisons are plagued by chronic management problems including poor record keeping and inventory systems, lack of space and well-trained personnel, and minimal regulatory oversight. Is automation the answer? Automating pharmacies in prisons involves using computer, communication, and robotic technologies to mechanize and digitize and manage the mixing, prescription, and distribution of pharmaceuticals. The market demand for automated pharmacies within global technocorrections is big and expected to grow. In this lecture, I discuss the emergence and design of automated pharmaceutical management systems and describe how they are being used across global technocorrections. I focus my analysis on the INSITE system, the first (2008) automated pharmacy system designed for use in prisons. What problems does pharmacy automation solve and create in prisons? I speculate on how social inequalities and forms of carcerality are patterned through automated data and behavioral management systems, geolocation and confinement strategies, and computerized audit systems. I analyze this case in the broader context of research that evidences the architectural, communication, and biomedical technologies that support infrastructures of carcerality.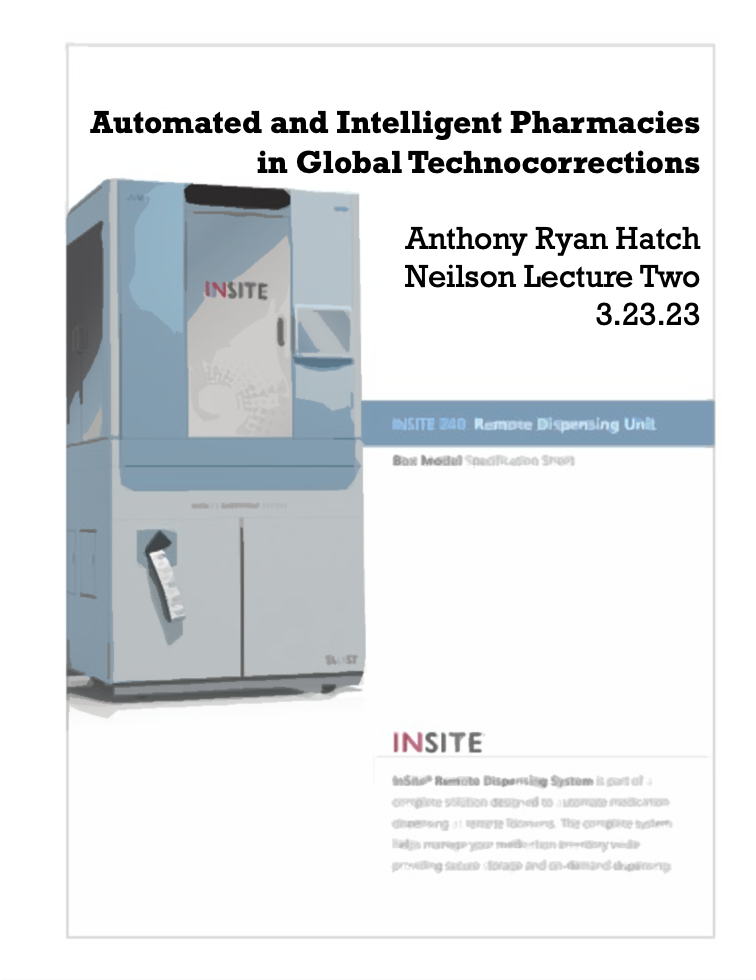 Lecture 3. Metabolism Cages for New World Animals, Small and Large
In the mid-19th century, metabolism cages emerged as experimental scientific infrastructures in biochemistry and physiology to enable the capture, isolation and control of the metabolic processes unfolding within an animal's body. By keeping new world animals in a metabolism cage, precisely controlling their environmental inputs and analyzing their biowaste, researchers developed new scientific knowledge about how bodies and environments interact. Metabolism cages allowed researchers to open the black box of metabolism. These new metabolic truths formed the basis of new forms of political governance, scientific norms, and cultural practices all of which transform the matter of/in bodies across species. This lecture explores the design history of metabolism cages as carceral technologies that became part of a broader scheme to establish metabolic dominance over multispecies life. This lecture describes ongoing intellectual and creative collaborations with student researchers and designers in Black Box Labs at Wesleyan University in which we deconstruct black boxes (like automated pharmacies and metabolism cages) by analyzing the power relationships that shape science, medicine, and technology.